Welcome to Hillman Schools
Mission
Inspiring each student to reach their maximum potential through a
collaborative, rigorous, and student-focused education.
Vision
Successful life-long learners who are ready for college, career,
and life in an ever-changing world.
June 12, 2019
Sports Physicals
The athletic department would like to remind all student-athletes that in order to play sports next year at the Jr/Sr High School you must have a current physical on file at the school.  Last year's physical cannot be utilized.  Feel free to take advantage of the opportunity offered by the OMH Medical Group out of Lewiston on Tuesday, July 23 from 4pm-7pm.  As you will find on the flyer the physicals only cost $15.00 and proceeds go back to the school.
Dear Parents, Students, and Teachers.
March 7th, 2019
We invite you to take part in our yearly satisfaction survey. Please click a link below to get started
Facebook
About Us
Making a Difference
Hillman Community Schools is a small public school with small class sizes in a professional atmosphere where integrity is valued and creating a family atmosphere is important.
​Our school is dedicated to encouraging each individual to achieve his or her personal best within this modest, caring family environment.
Core Values
Achievement - We will reach our goals!
Excellence - We give OUR best!
Integrity - We do the Right Thing!
Commitment - We educate ALL students!
7 Habits
Our school believes in the philosophies behind Steven Covey's 7 Habits. Please click on this link for more information or ask your student what habit they are focusing on today.
Spotlights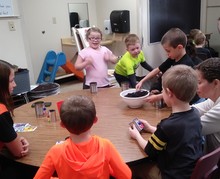 Elementary Students Lead with Learning
Hillman Elementary spent time learning with High School students on Earth Day.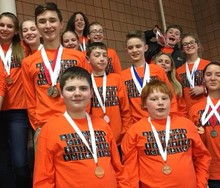 New Middle School Concept
A new Middle School program has been created for grades 6-8 at the High School campus. This allows for consistency between grade levels, support for the transition to Middle School, and will provide a consistent team for parent interactions to be supported.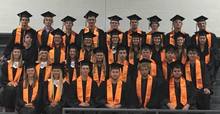 Successful Seniors Preparing for the Future
In 2018, we had an increase in graduation rates, taking us to 90%, with 80% of graduating seniors having committed to a four-year university, community college or military service. We are continually striving to better prepare our students for a bright future.